Once you have decided on your wedding dress, it is time to purchase it. This can be a daunting task, as there are so many things to consider when buying a wedding dress.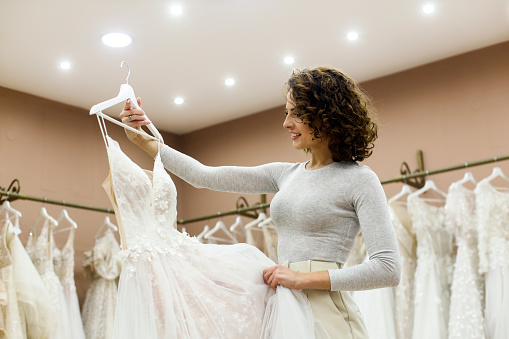 Here are 10 tips to help you make the perfect purchase:
1. Do Your Research
When it comes to wedding dress shopping, doing your research is key. Start by looking through magazines and online retailers to get an idea of the styles you like. You can even browse through real weddings to see what other brides have worn. This will help you narrow down your options and make the shopping process a lot easier.
2. Set A Budget
Wedding dresses can be quite expensive, so it's important to set a budget before you start shopping. This way, you won't fall in love with a dress that's out of your price range. Keep in mind that you may need to spend more on alterations if you go with a less expensive dress.
3. Shop Early
If you want to avoid the stress of last-minute shopping, it's best to start looking for your dress at least six months in advance. This will give you plenty of time to find the perfect dress and get it altered if necessary. Plus, you'll have a better selection to choose from if you start early.
4. Go For A Fitting
Before you buy a wedding dress, be sure to go for a fitting. This way, you can make sure the dress fits properly and that there aren't any obvious flaws. If you're buying a dress online, be sure to check the return policy in case it doesn't fit as expected.
5. Consider Your Style
When shopping for a wedding dress, it's important to consider your style. If you're more traditional, you might want to go for a classic white dress. But if you're looking for something unique, there are plenty of other options available. Consider trying on a few different styles to see what looks best on you.
6. Think About The Future
When you're shopping for a wedding dress, it's important to think about the future. You might want to consider a dress that can be worn again for another event or even handed down to someone else. If you're not sure what you want, ask the salesperson for their opinion. They might be able to help you find the perfect dress.
7. Accessorize Wisely
When it comes to accessorizing your wedding dress, less is usually more. You don't want to overdo it and end up looking like you're trying too hard. Stick to a few simple accessories, such as a veil or a pair of earrings. If you're not sure what to wear, ask the salesperson for their opinion.
8. Be Comfortable
You'll be wearing your wedding dress for hours on your big day, so you want to make sure it's comfortable. When you're trying on dresses, pay attention to how they feel. If you're constantly adjusting or tugging at the dress, it's probably not the right one for you.
9. Take Your Time
Don't feel like you have to buy a dress right away. It's important to take your time and find the perfect dress for you. If you're not sure, ask the salesperson if you can take the dress home to try on again.
10. Trust Your Gut
When it comes down to it, you'll know which dress is right for you when you see it. So, trust your gut and go with the one that makes you feel the most beautiful.

These are just a few tips to keep in mind when shopping for a wedding dress. By following these tips, you'll be sure to find the perfect dress for your big day.

For related articles, check out the mother of the bride dresses that hide belly fat.