A bikini is a two-piece swimsuit that is typically worn by women. It is also sometimes worn by men. The term "bikini" was first used in 1946, and refers to the fact that the garment covers the wearer's body very closely as if it were divided into two separate pieces (hence the name "bi-" meaning "two" and "-kini" meaning "piece").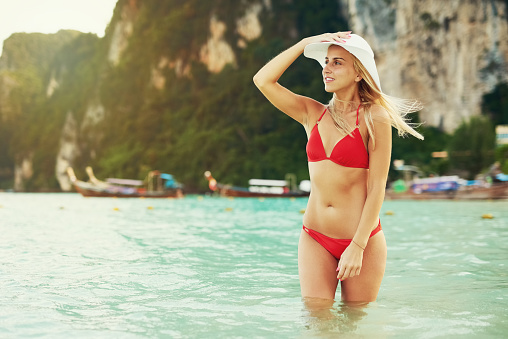 A bikini is usually a woman's swimsuit that consists of two triangular-shaped pieces of fabric that are joined together at the crotch. The top part of the bikini covers the breasts and the bottom part covers the crotch and buttocks. Bikinis are often worn by women when they are going to the beach or swimming pool.
The bikini was first introduced in France in 1946 by designer Jacques Heim. The bikini became popular in the United States in the 1960s. It is named after the Bikini Atoll, where nuclear weapons testing took place in the 1940s.
The bikini is often considered to be a symbol of summer and is associated with beaches, swimming pools, and suntans. It is also sometimes considered to be a symbol of female empowerment and body confidence.
Since then, the bikini has come to be associated with confidence and sex appeal. Wearing a bikini can make a woman feel more confident in her skin and show off her curves. Bikinis are also seen as being more sexy and alluring than other types of swimwear, such as one-piece suits.
A lot of people are unhappy with their bodies, and they feel self-conscious when they go to the beach. Wearing a bikini can be very daunting, but it doesn't have to be. If you choose the right bikini for your body type, you can look and feel great on the beach.
Here are some tips on how to choose a flattering bikini:
Choose A Style That Flatters Your Figure
If you have a small bust, try a triangle top or bandeau top. These styles will give you some extra support and make your chest look larger. If you have a large bust, look for a top with an underwire or padding for extra support. Halter tops are also a good option for women with larger busts.
For bottom coverage, choose a style that fits well and provides the coverage you want. If you're self-conscious about your stomach, try a high-waisted bottom or a tankini top.
Find The Perfect Fit
Once you've found a style that flatters your figure, it's time to find the perfect fit. Make sure the bikini top fits snugly but is not too tight, and that the bottoms are not too loose. If you're not sure about the fit, ask a salesperson for help.
Choose The Right Colour Or Pattern
Choose a colour or pattern that you feel good in. If you're feeling confident, go for a bright colour or print. If you want to downplay your body, stick to darker colours.
Don't forget to accessorize
A cute pair of sunglasses, a floppy sun hat, and a beach bag full of essentials will make you feel confident and stylish in your new bikini.
Most importantly, wear what makes YOU feel good. If you're comfortable and confident in your bikini, you'll look great no matter what anyone else thinks.
So ditch the cover-up and hit the beach with confidence this summer! With these tips, you'll be sure to find the perfect bikini for your body type. Don't be afraid to rock a bikini this summer! With the right style and fit, you'll look and feel great. And who knows, you might even start a new summer tradition.
If you are looking for a strapless bikini, just check it out.